| | |
| --- | --- |
| Welcome to Leger Accounting, Corp. a growing company that provides full consulting services to small and mid-sized businesses. We provide services to businesses in the Washington metropolitan area (Maryland, Washington, and Virginia). We also provide personal services to individuals countrywide. | |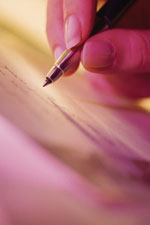 Background:
Leger Accounting Corp. is 100% owned by Glenda L. Saravia-Benitez, a University of Maryland College Park (UMCP) graduate in Accounting and Finance Major. She has already been approved to sit for the CPA (Certified Public Accountant) exam in the state of Maryland, which will be taken soon.

She started working in the Accounting field in 1997 while studying in Montgomery College Rockville. In 1999 she transferred to University of Maryland College Park (UMCP) and at the same time started working for Avelino Gonzalez and Associates. There she was able to get a lot of experience as an accountant.
She was able to overcome many accounting and taxes issues that are normally faced by small businesses. Ms. Saravia-Benitez achieved the degree in Bachelor of Science in Accounting major in December 2000 and in Finance major in December 2001. She kept working for Avelino Gonzalez and Associates until January 2003. Then she purchased the practice, from Avelino Gonzalez, and incorporated as Leger Accounting Corp.


PERSONAL SERVICE
Preparation of Personal Income Taxes (Federal and State)
Tax Planning
Personal Budget Planning
Individual Taxpayer Identification Number (ITIN) application [Better known as Tax ID Number]


BUSINESS SERVICES
Business Start-up
Full Accounting Services:
Payroll Services:
Business Income Tax Preparation (Including Multi-state Income Taxes)
Minority Application Package
IFTA Quarterly Reports Preparation
DOT Application
Motor Carrier (MC) Application
Contracts
Property Taxes
Business Dissolution



OTHER SERVICE
Translations in writing and in person (English to Spanish and Spanish to English)
Notary Public Services
Authorization Letters
Bill of Sales
Assisting to Fill-Out Applications